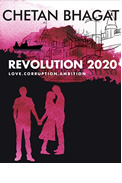 It always happens so. I have read all the books that Bhagat has penned down in one gulp. I doubted about this one, since it was usual to dread if the novel doesnt match upto the expectations. Bhagat has managed to give a Go-Read effect in this one too, making it hard to pause R2020 till its complete. Its simple style of story telling is what making India read all his novels to be the best sellers every time.
This time, Bhagat narrates the story of the Director of a college in Varanasi, Gopal, an innocent young boy who later choses to live a villian's life by accepting the path of corruption to make money and succeed in his luck slapped life. The narration justifies his malpractices with his growth and undying love towards a childhood friend Aarti who hails from a family of clean political background. He fails to retract his one sided love even when he knows that she has a boyfriend and he is his own best buddy from school days, Raghav, who craves to revolutionise the country by the year 2020. The girl also gets convinced about Gopal's love when she lacks constant attention from goal- oriented Raghav who has little time left for her in his achievements of journalism. She begins to accept Gopal gradually into her life. But realising Raghav's moral intentions, and owing to rationality rather than his personal preferences, Gopal helps Raghav patch up his relationship with Aarti and he slides out himself from their life, leaving Aarti no cause for regret.
The narration believes that the revolution has to start somewhere and media and politics shall play a very important role in it. Being perfect movie material like the previous ones, it ends with a hope to change the corrupt beuraucratic system. Its a book to be read by everyone to get motivated about their life too.
Indeed, a book to be added in our shelves. Could not supress the urge to write wat i felt about the novel!! Its just that.........The Bhagat Mania is back!!!